QuickBooks Online vs. Xero: Which Is Best for Your Small Business?
Article provided by NerdWallet
QuickBooks Online and Xero are among the biggest names in cloud-based accounting, but a handful of factors distinguishes the two. Both Xero and QuickBooks Online are powerful accounting solutions for most small businesses. Even so, there are a few distinguishing factors worth considering so you can feel confident about your decision now and down the road. QuickBooks Online is the stronger candidate for business owners who prioritize scalability and the ability to easily loop in accountants. And if they want to gain deeper insight into the logistics behind their business as it grows, QuickBooks Online's reporting capabilities scale up with each plan level. However, Xero's unlimited-users feature renders it a winner among larger businesses and well-established small businesses that require more than 25 users or over 250 accounts. On the opposite end of the spectrum, its $11 per month Early plan is a fantastic deal for self-employed people who don't need to send out more than 20 invoices per year.
READ REVIEW

Established: $62 per month.

Simple Start: $25 per month.

Essentials: $40 per month.

Advanced: $150 per month.

Simple start: 1 user; 2 accounting firms.

Essentials: 3 users; 2 accounting firms.

Plus: 5 users; 2 accounting firms.

Advanced: 25 users; 3 accounting firms.

Maximum number of financial accounts

250 max for Simple Start, Essentials and Plus plans.

Unlimited for Advanced plan.

Good. Invite your accountant via email and assign them adviser permissions. With over 2.7 million subscribers worldwide, Xero is well-known but not as popular as QuickBooks Online.

Excellent. Email your accountant a link to log into your QuickBooks account. QuickBooks Online has 5.1 million users worldwide, meaning your accountant is likely familiar with it.

Good. Xero's Growing plan gives small businesses room to expand with the option of upgrading to the Established plan down the road.

Excellent. Advanced, customized reporting capabilities in higher-tier plans could be a big asset to experienced business owners interested in running more complicated reports down the road.

Excellent with an 8.8 usability rating from TrustRadius.

Excellent with an 8.4 usability rating from TrustRadius.
Extra note on ease of use
: If you want to get the most out of your accounting software product, regardless of whether you choose Xero, QuickBooks Online or something else, you'll have to invest some time learning accounting basics. Both Xero and QuickBooks Online have clean dashboards that are easy to navigate, but the information on them can be overwhelming if you don't brush up on the
t
erminology
and
why it's important
.
If you need to give accounting access to more than five people, Xero could be the better option for you. QuickBooks Online's most popular Plus plan tops out at five users and the highest-tier Advanced plan, which is expensive at $150 per month, allows up to 25 users. In contrast, Xero's highest-tier Established plan is $60 per month and puts no cap on the number of users. All things considered, however, user limits shouldn't be a huge deal unless you have a larger business.
Number of invoices: QuickBooks Online wins
Though QuickBooks Online limits the number of users, all its plans support unlimited invoices. Xero's Early plan,  recommended for self-employed people or brand-new businesses, allows for 20 invoices. If you only send out an invoice or two each month, the Early plan is an extremely affordable option at $11 per month. Otherwise, you'll have to bump up your subscription or consider QuickBooks Online plans.
Number of accounts: Xero wins
With a recommended account limit of 699, Xero is better equipped to serve large businesses with a multitude of existing account categories. If you can keep your accounts at QuickBooks Online's lower-tier plan limit of 250 or below, this factor doesn't come into play.
Reporting complexity: QuickBooks Online wins
This category carried the most weight in the scalability comparison. While the number of users, invoices and accounts are important, some small businesses will never need more than a few users or 100 accounts. However, as business owners learn more about accounting, they might want to run more detailed reports, and that capability increases with each of QuickBooks Online's four plan tiers. While Xero's highest-tier plan lets users graduate to tracking projects and claiming expenses, its other reporting capabilities stay relatively consistent.
Popularity: QuickBooks Online wins
QuickBooks Online is an industry standard with 5.1 million users worldwide. If you count QuickBooks Desktop users, that number gets bumped up to 8 million. With more than 2.7 million users worldwide, Xero is popular but not as ubiquitous as QuickBooks Online. The numbers alone suggest there's a better chance your accountant has worked with the latter.
Both accounting software products let users invite their accountants via email. The process shouldn't take more than a couple of minutes.
When you finally decide on an accounting software product, the hope is that you'll be comfortable using it. Before making any decisions, it's worth taking a test drive of each software product to check out its dashboard and shortcuts. While both Xero and QuickBooks Online have been rated as user-friendly and have a clean look, you might find you prefer one layout over the other.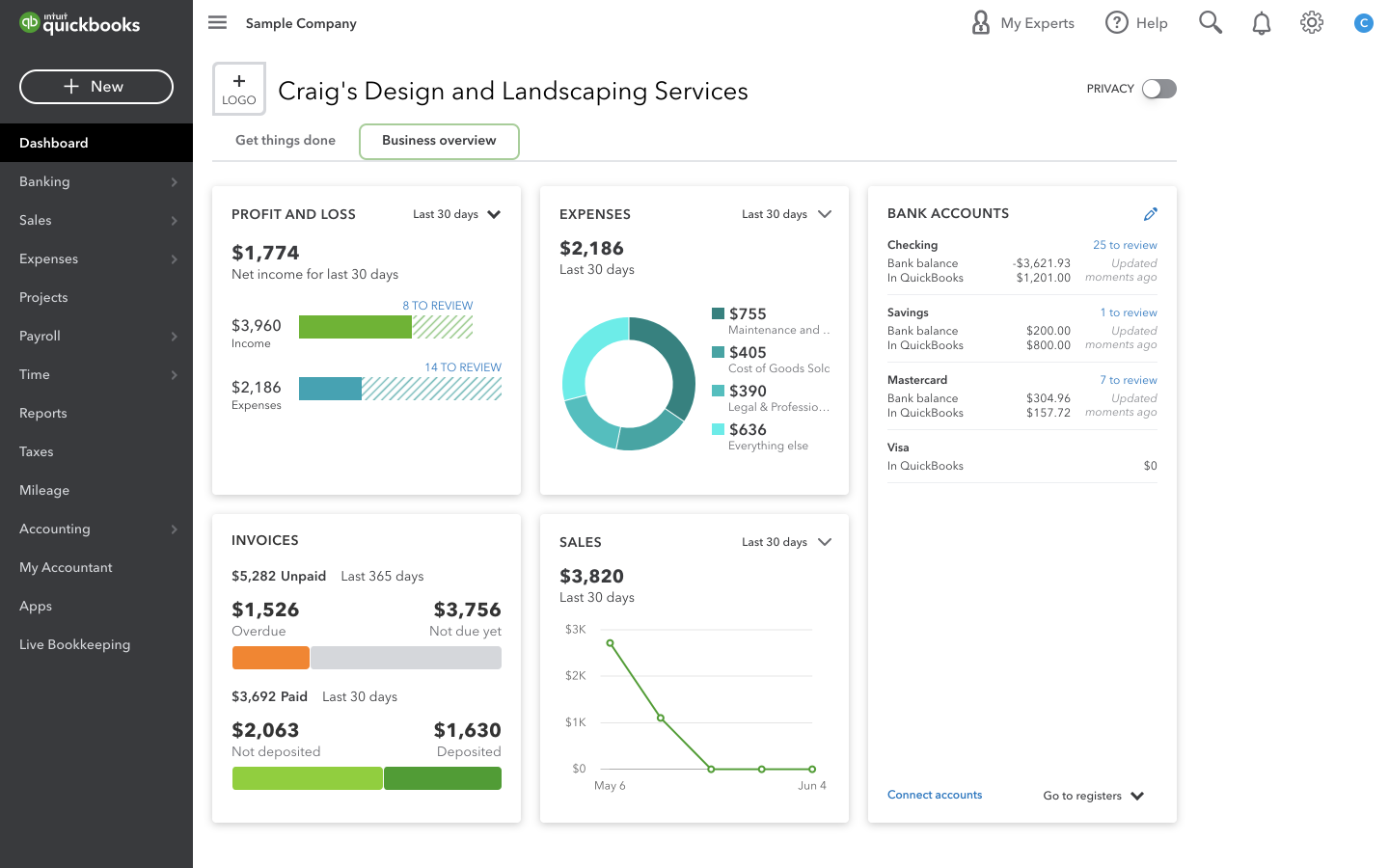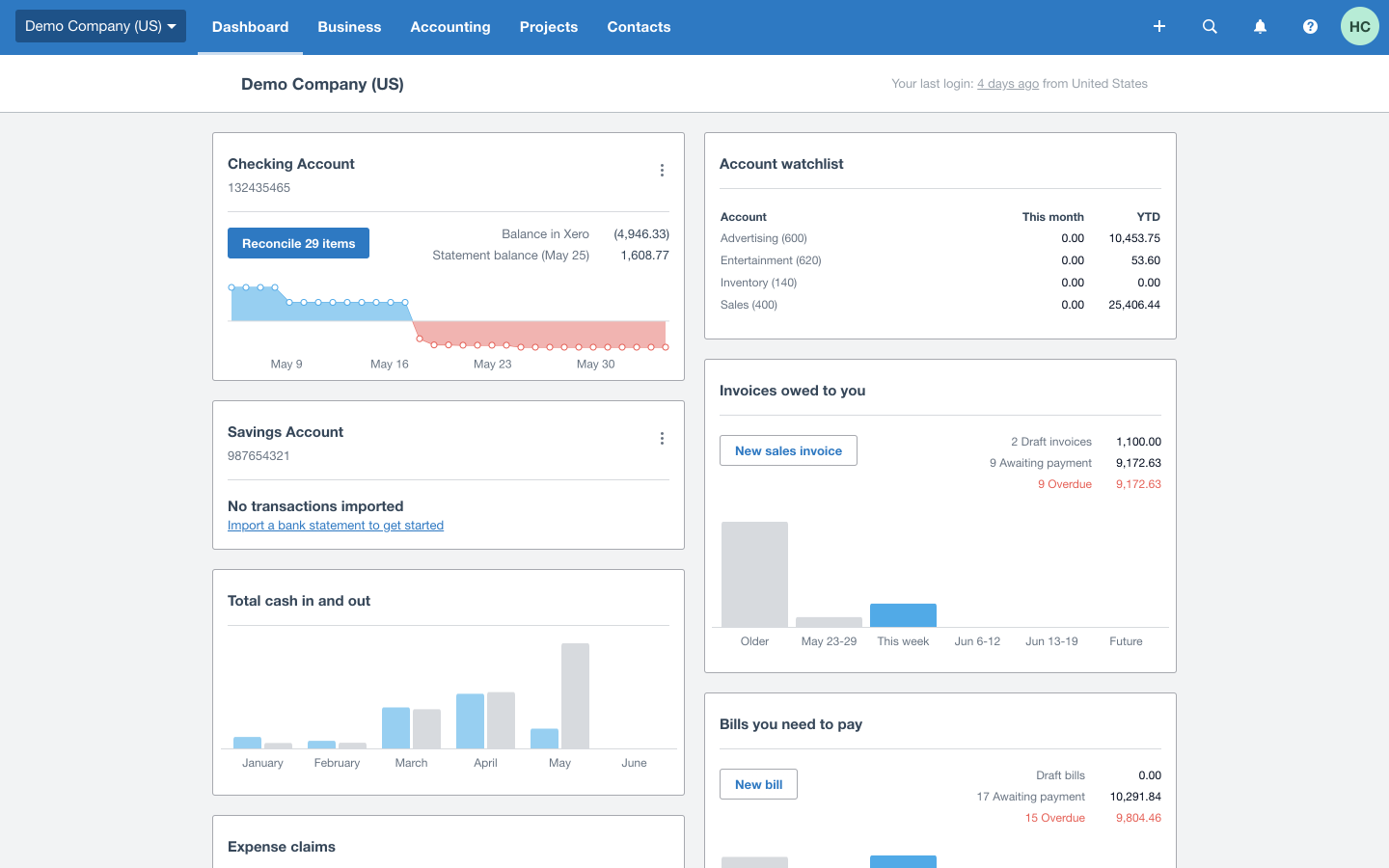 Xero dashboard.
When business owners choose an account in Xero and navigate to the Reconcile tab, the page is organized into two columns: "review your bank statement" and "then match with your transactions in Xero." An "OK" button in each row gives subscribers the option to confirm each match. QuickBooks Online's long list of transactions in the Reconcile tab takes a slightly different approach. After connecting QuickBooks Online with your bank accounts, checkmark each transaction that matches up with an expense from that month's bank statement. QuickBooks Online recommends printing out bank statements to make cross-referencing easier.
Claiming expenses: QuickBooks Online wins
QuickBooks Online allows users to claim expenses in all plans whereas Xero requires Xero Expenses, an additional feature only included in the highest-tier Established plan.
Fixed asset management: Xero wins
While Xero includes fixed asset management in all plans, QuickBooks Online requires users to either download a third-party add-on or manually set up an asset account. Though both companies suggest users work with an accountant to manage depreciation of assets, Xero does a better job of cutting out the work for you.
Inventory management: Xero wins
If you can't justify the $70-per-month QuickBooks Online Plus plan, the company's lower-tier plans don't come with inventory management. This could be a real downfall for small online retail businesses, for instance, that need to keep track of their products and the materials used to make them. All of Xero's plans come with inventory management so business owners can track what's in stock and which products are selling.
Transaction tracking tags: QuickBooks Online wins
Both Xero and QuickBooks Online have their own versions of transaction tracking tags, but QuickBooks Online is the winner in this arena. Xero lets users create two active tracking categories, whereas QuickBooks Online allows users to have 40 tracking categories. For example, users could create a location category with subcategories for each city where they deliver — that would count as one category. Similarly, users could create an order status category with options like completed, pending and incomplete. The more categories you create, the more reports you can run to get a better idea of how your business functions and where there's room to grow. Other category tag ideas include customer type, vehicle, needs receipt or ask my accountant.
Business owners who prefer working through a hiccup on the phone will favor QuickBooks Online. While Xero offers online support only, it's available 24/7 in case you're a night owl.
Mileage and time tracking: QuickBooks Online wins
Xero users track mileage and time through Xero Expenses, a tool included only in the highest-tier Established plan. QuickBooks Online incorporates mileage tracking into all plans, and time tracking is available in the Essentials plan and up. If you require only a few users and don't need to track projects, you might consider QuickBooks Online's Essential plan over Xero.
A closer look at QuickBooks Online vs. Xero
READ REVIEW

More than 1,000 apps including deep integration with Gusto for payroll.

More than 650 apps including QuickBooks Time, QuickBooks Payroll and Gusto.

Yes. Apple's App Store gives it 4.5 out of five stars based on more than 470 reviews.

Yes. Apple's App Store gives it 4.7 out of five stars based on more than 126,000 reviews.

Comes with Essentials plan and up.

New users get free access to all of Xero's features for 30 days before deciding on a plan.

50% off for the first three months or try out a 30-day free trial.

24/7 online support. No phone support.

Simple Start, Essentials and Plus offer customer support via phone or messaging Monday-Friday from 6 a.m. to 6 p.m. PT and on Saturday from 6 a.m. to 3 p.m. PT. The Advanced plan has 24/7 support.

While Xero connects with multiple lenders, it doesn't offer its own small-business loans.

Apply for small-business loans directly through QuickBooks Capital.

20 with Early plan; Unlimited with Growing and Established plans.

Unlimited with all plans.