IRS Notices: Tax Debt: You Received an IRS Tax Notice so What is a CP14 Notice?
IRS notices are letters sent to inform taxpayers of important tax information. Each one is different, but we can explain what the CP14 is about.
Understanding your CP14 notice
You owe the IRS money in unpaid taxes.
Type of Notice: Tax Debt
Why you received the CP14 notice
You have received a CP14 notice because you owe the IRS unpaid taxes.
Likely next steps
As always, read the notice carefully, which will clearly outline how much you owe the IRS and how to pay. The IRS offers payment plan options if you cannot pay the full amount. We can help you to set up a payment plan. If you want more help, you can speak to a Tax Professional who can review your notice and help determine if you're qualified for various IRS programs. We provide a full listing of tax problem resolution services whatever your tax situation. You can learn more about how to start with expert help and your options by contacting our office.
CP14 Notice deadline
Your CP14 will have a deadline for payment listed.
If you miss the deadline
If you don't pay the taxes by the due date in the notice, interest will accrue and penalties will be assessed back to the due date of the tax return.
Below is a CP14 Letter from the IRS. Note the personal information of this taxpayer is fake both the name of the taxpayers and address are not real.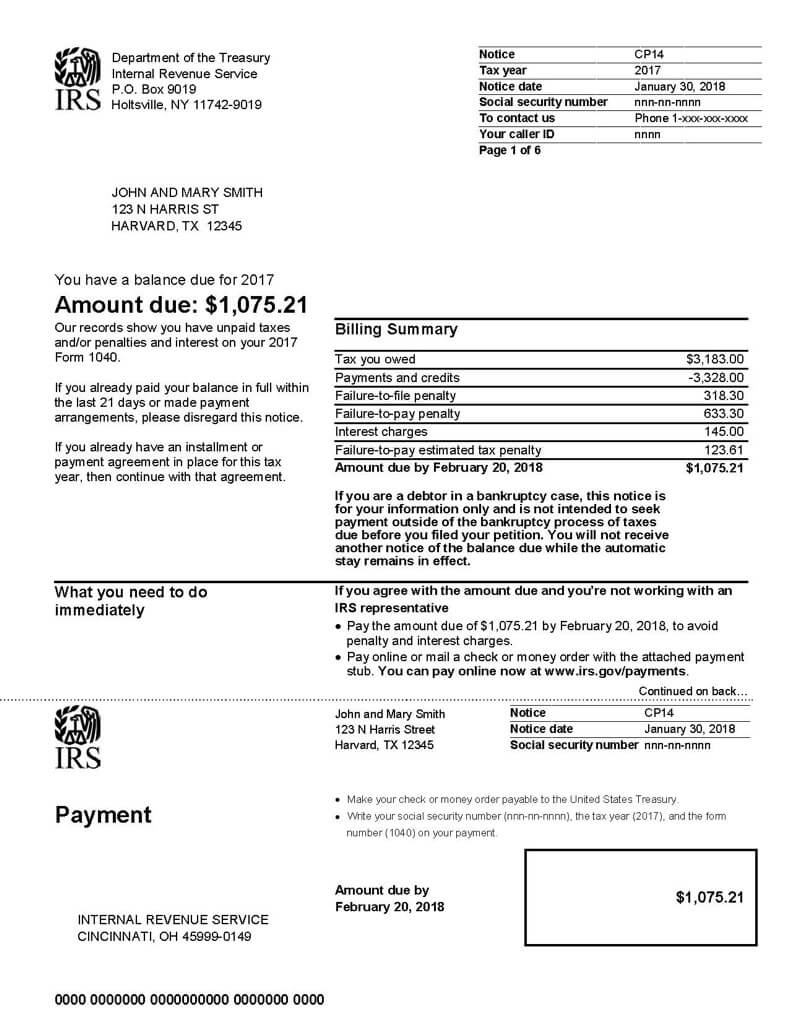 You should call whenever you receive a notice from the government related to your tax return. You should never respond to a notice without first checking with our office.
Contact our office 215-945-4200 today for Help with your Tax Notices. We provide Tax Problem Resolution and Tax Preparation services for both Individual & Business taxpayers. A CPA will help you with your Tax Matters. Our office is open year-round for services and assistance. Call our Office of Book your appointment online.